| | |
| --- | --- |
| | Provide your people with the tools and information they need to create a 360 degree view of customers, using a highly flexible customer relationship management (CRM) platform that can adapt, grow, and scale with your business. Built on a highly flexible platform, Microsoft Dynamics CRM business software provides a solution that is easy to adapt as your business changes. |
Achieve rapid return on investment and help keep costs down with efficient manageability and the ability to choose on-demand, on-premise, or hybrid deployments. Provide enterprise levels of performance and scalability from local business groups to the global enterprise.
Microsoft Dynamics CRM helps enterprise organizations to:
• Attain a 360-degree view of customers
• Achieve reliable user adoption
• Adapt quickly to business change
• Accelerate project delivery and returns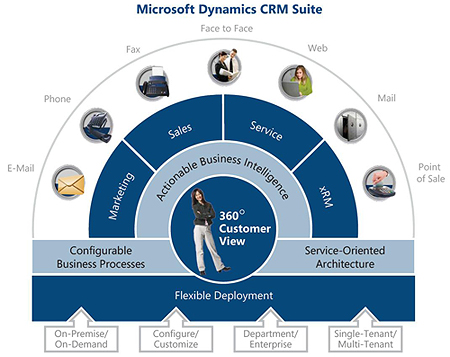 Cartel IT Solutions' expertise extends to the implementation of Microsoft Dynamics CRM. With modules for sales, marketing, and customer service, Microsoft Dynamics CRM delivers a fast, flexible, and affordable solution that drives consistent, measurable improvements in every business process, enabling closer relationships with customers and helping to achieve new levels of profitability.
Our extensive functional and enterprise implementation expertise and proven implementation methodology help us deploy solutions rapidly leading to reduced total cost of ownership. We also offer skills in application integration and data migration that are critical to the success of a CRM implementation.
For a top-class solution to meet your business requirements, please contact CITS today at info@cartelsolutions.com on or submit your interest in Microsoft Dynamics CRM online.