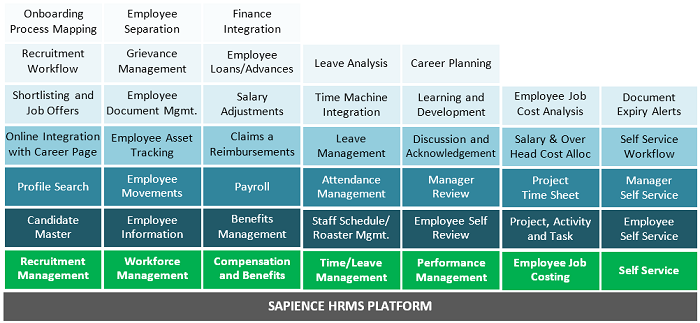 Sapience HRMS - A HR and Payroll Software application is a comprehensive solution which can help you manage your most valuable asset – your employees. It is a powerful, easy to use human resource and payroll management solution. It is an affordable solution that can meet day to day HR & payroll processing requirements of any Middle East based company without sacrificing the control, flexibility and accessibility.
Enterprise-Class Human Resource and Payroll Software
Any size of business can enjoy the benefits of a full-featured internet payroll solution.
Local Practice built-in with International Standard
Meet the needs of your organization with flexible payroll processing and comprehensive payroll reporting in accordance with international standards and local practices. Gratuity, leave salary calculations, leave fare and their provisions are managed efficiently here to suit Middle East requirement. Sapience HR and Payroll handles Wage Protection System (WPS) as per UAE Ministry of Labour (MoL), Gratuity, leave salary calculations, leave fare and their provisions are managed efficiently here to suit entire Middle East requirement.
Employee Details
Record personal information of employees, together with their photographs, signature, qualification, work experience, grades, medical history, employee documents like health card, labour card, etc.

Payroll Services
No more worrying about late payment of employee salary and missed deadlines. We provide payroll management module which provide all functionality required by traditional payroll system.




Company Calendar


Use the Company Calendar to define the Company holidays. And to add to this, each and every employee may have his / her own calendar, where his/her weekly holidays can be maintained.

View Product Features
In-depth reporting and screen enquiries
Sapience HR and Payroll Software comes with powerful reporting capabilities that enable you to zero in on the data that matters the most. Reports like Pay register, bank transfer statement, cash denomination, budget variance on jobs, job wise hours and cost, annual leave due report etc.
Integrated Job Costing Module
Job Costing is a module that can be integrated with the software to maintain job wise attendance, human resource allocation, job wise budgets, direct & indirect costing.
Advanced Security and User Management
A fully secured application with maximum user control ensure the confidentiality of HR data.
Sapience HRMS is designed to meet the local and global and industry diversified requirements. Clients can be benefited for multi-organization, multi-branch, multi-Location, multi-currency and a global view functionality.
For a top-class solution to meet your business requirements, please contact CITS today at info@cartelsolutions.com on or submit your interest in Sapience HRand Payroll Solution online.